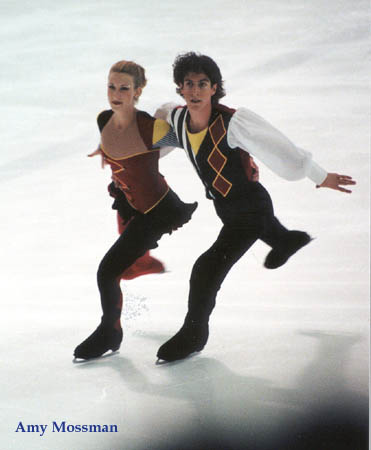 Brenda Key & Ryan Smith skating to to their fredance: Alegria !!! Photo copyright © Amy Mossman.

Visit her site !

News /

Profile/Results/ Program info/ Articles/ Quotes / Links /Poll

Photo gallery: 99 Canadian Nationals / Minto Summerskate

The first time I saw Brenda Key & Ryan Smith skate was at the 99 nationals, when CTV broadcast their freedance, I immediately liked them !
They had great rythm, good speed, and it was a real fun program.
But what I most liked about them is how much they enjoyed their skating, and how they interacted with the crowd, great showmanship. They are even more fun to watch live as I had a chance to do at the Montreal Junior grandprix !
So here is my fanpage for Brenda Key & Ryan Smith !

News:

Click to subscribe to the Key & Smith Online mailing list
Listen to a clip of Key and Smith's freedance music !!!
Capping of their succesful season with a 9th place finish at JR. worlds. Brenda & Ryan can now get ready for next season, I can't wait to see what their programs will be !
Brenda & Ryan finished 4th at Sr. nationals !!! This is an amazing finish for their 1st senior nationals. Their free dance & OD were shown on tv, both were skated very well with only a slight mistake in the OD. They have now made the national team and next year will be able to compete in SR. Grandprix Circuit. In the mean time they will be competing at JR. worlds at the begining of march.

Birthday:

Brenda: December 13, 1980/Ryan: January 27, 1981

Hometown:

Brenda: Midland, Ont./ Ryan: Orillia, Ont.,

Coach:

David Islam

Choreagrapher:

Kelly Johnson

Train at:

Mariposa school of skating

Clubs:

Brenda: Midland FSC / Ryan: Orillia FSC

Other Info:

Ryan's Brother Jeff is also an Ice dancer, he skates with Laura Currie.

1999-2000 season:
5th Nagano Cup Junior Grandprix
1st Minto Summer Skate
3rd Montreal Junior Grandprix
1998-99 season:
6th Junior Grand Prix de St. Gervais
4th Ukrainian Souvenir Junior Grandprix
1999 National Junior Champions !!!
1997-98 season
12th Hungarian Junior Grand Prix
16th Pokal der Blauen Schwerter Junior Grandprix
16th Blue Swords
1996-97
1997 National Novice Champions

year

Original Dance

Free Dance

99-00

Something latin

Alegria- Cirque de Soleil

98-99

Waltz: Tales from the Vienna woods

Movie Soundtrack from Curdled

97-98

Jive

???

96-97

????

will find out

Tango

will find out

"They had an outstanding competition and just radiated,"

- Jane Garden, on their performance at Ukrainian Souvenir Junior Grandprix

The Canadian Figure Skating Association official homepage of the CFSA
Past Canadian Championships Results results as far back as 1905 !

If you have any corrections, interesting info, or just want to talk about Key & Smith, I'd love to

hear from you !

I don't know Key & Smith personally, so please don't email me in order to contact them.

Special Thanks to Amy M and Mozart for helping me find out some of this info !